Simulation Cost
Our simulations are priced to provide a fantastic educational return on investment when calculated on a per-student basis. The cost per student is a function of the number of students per team. It is our belief that the fewer students per team, the more input each student has in the simulation outcome, and the more they learn. However, the number of students per team is a decision left to the discretion of each professor.
We are flexible in arranging payment for use of our simulations in order to accommodate individual institutional requirements. It is our policy to work closely with any school, or professor, to meet specific adopter needs. There are three primary payment alternatives that satisfy most situations. You may select the one that best fits your university's requirements. If none of these alternatives is satisfactory, we can discuss the specifics of your situation, and work with you to find resolution.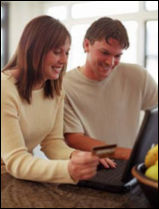 Alternative 1: This is the most frequently used option. There is no cost to an adopting university or professor for use of our simulations. The cost is borne entirely by the students, in they same way that they pay for their textbooks, laboratory fees, and so forth. The cost to the students is variable depending on the number of students that the professor places on each team. The cost for each team is $100. To determine the per-student cost, divide $100 by the number of students on a team. For example, if the professor creates two-person teams, the cost is $50 per student. For four-person teams, the cost is $25 per student. The number of students per team is strictly a professorial decision. Students pay directly over the Internet, removing the fee collection burden from the professor and associated educational institution.
Alternative 2: This option is used where the college or university chooses to pay for student access. It is less commonly used in the United States, but of more interest globally. The cost is $100 per team, and the school is billed directly for the number of access codes requested. The access codes are emailed directly to the professor, and the educational institution is responsible for payment.
Alternative 3: This option is rarely used. For seminars, with a small number of students, payment for use of the simulation is directly resolved with the professor.