Student Response
In order to determine the effectiveness of the MARS Sales Management Simulation, evaluation questionnaires were administered to 5 classes of Sales Management at two different universities, resulting in responses from 151 students. The students were asked to evaluate both the textbook used in class and the simulation on 15 statements. T-tests were used to compare the means of the textbook response with that of the simulation. As demonstrated in the following table, the simulation was rated significantly higher than the textbook for all 15 statements.
| | | | |
| --- | --- | --- | --- |
| Made me think | 5.82 | 8.18 | .000 |
| Should continue to be used | 6.36 | 8.17 | .000 |
| Made course more interesting | 5.48 | 8.15 | .000 |
| Is useful learning tool | 6.43 | 8.13 | .000 |
| High level personal involvement | 5.59 | 8.07 | .000 |
| Overall very positive | 6.39 | 8.01 | .000 |
| Improved decision making | 5.71 | 7.97 | .000 |
| Kept me interested | 5.40 | 7.95 | .000 |
| Improved analytical skills | 5.62 | 7.84 | .000 |
| Applied what learned in class | 6.45 | 7.81 | .000 |
| Improved problem solving | 5.61 | 7.81 | .000 |
| Helped learn concepts | 6.54 | 7.72 | .000 |
| Taught fundamentals | 6.58 | 7.70 | .000 |
| Helped understand SFM | 6.50 | 7.68 | .000 |
| Helped retain knowledge | 6.28 | 7.54 | .000 |
| Opportunity to develop team skills | N/A | 8.18 | N/A |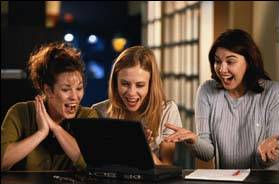 Student Comments:
The simulation helped me by letting me use what I learned in class in the simulation decisions
I enjoyed being able to make different changes every week. We always had a chance to try new techniques to get positive results.
It was the basic decisions that sales managers make. It was a good way to learn hands on to see what we will eventually be doing.
It really taught me a lot about how things really are in this industry and decisions and problems you must handle as a sales manager
I like that how much effort we had put into the project was rewarded with good grades
It's refreshing to get a simulated real world experience. The business school should focus more on that
I liked that we were actually able to apply what we have learned as business students to a life-like situations
It was interesting. It was having a semi-internship. Gave you a little real life experience
Help that it gave us within the class. Applied knowledge learned from simulation to class material.
I liked how we were able to work in groups. I enjoy other people's feedback and input. It seems easier to make decisions when other people are there to give you their thoughts as well.
I liked the real life perspective the simulation offers. These are decisions managers make all the time and I was able to act like a real manager to see how it would be.
That we worked in groups and the learning experience we got from it.
I liked that the simulation gave you almost immediate feedback. We didn't have to wait for a very long time to get the results. It told you when someone's commission or salary went up 100% or 50%.
The simulation helped to improve my decision making skills I'm a marketing major with an emphasis in sales. The simulation was very relevant and I look forward to entering a career in sales.
I enjoyed the opportunity to see what awaits sales managers in the future, and what to be prepared for.
We got to make real decisions that are made every day in the real world.
It was a great way to understand the real life decisions managers make in the sales industry.
Seeing how sales managers really have to deal with things on the job; the group work.
That we worked in teams. I learned more from my teammates because we all brought something different to the simulation.
It gave me the opportunity to see some of the responsibilities that go into being a sales manager.
The simulation really applied what was taught in this course. The simulation demonstrates how to apply what is learned in the course.
The instant feedback regarding decisions and the ability to test concepts is a real world situation.
I liked the fact that you had a chance to correct your mistakes the very next period. You can learn very quickly as opposed to it actually being real life and learning the hard way.
Being able to see the results of the decisions we made.
Helped me to learn some non-intuitive aspects of the position
That it gave us an easy way to run a business without having the downfall of running it into the ground. Also, learned different people need different things.
The ability to make successful management decisions and what kind of outcome it had in your company.
This simulation gave me the opportunity to see what it would be like to have to manage employees in a real business situation. I got to learn a lot about how to manage profits and I learned that what motivates one person will not necessarily motivate another.
It was entertaining. Kept us trucking. Gave some real life experiences. Helped reinforce what was learned.
What I liked best was that it taught me a lot about sales management. What I also liked was that we got immediate feedback.
I liked how each period we were given a chance to fix decisions from the previous period and were given advice on what should be changed.
Taught me how to apply skills learned in class to different sales management situations in the situation
Working in groups to make a decision and making a good grade.
I liked coming up with the decisions each period with my team. I enjoyed playing the role of a sales manager and learning how to be an effective one. I also enjoyed being in first place!